Pivot Ship offers a variety of products and services that will help you at any stage in your business's development. Every product is set up and installed by our staff so you barely have to lift a finger. We provide training and support for every step of the way.

Not sure where to start? Our staff is happy to help. Set up a complimentary product introduction call today.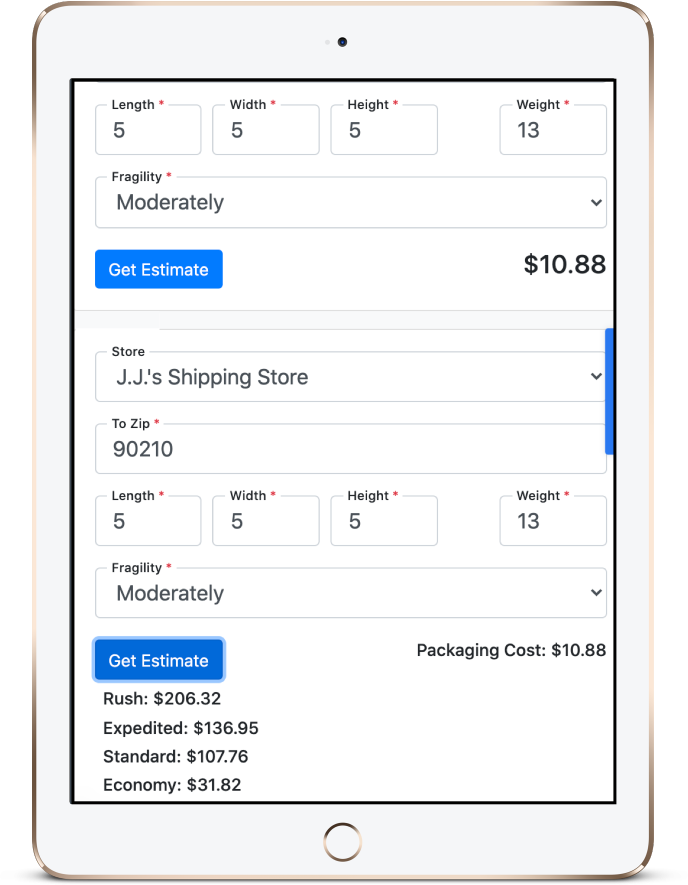 Upgrade your web presence with our pack and ship calculator! How many phone calls do you get a day with customers asking for a 'quick quote?' How many want a 'quick quote' but don't actually call you? Whether you are using this to gain more traffic to your website or cut down on the number of calls you receive, this calculator can provide quick estimates that align with your in-store rates.
Once you sign up for your subscription, a Pivot Ship team member will reach out to you. Our team will get information about your shipping and packing material prices to ensure your widget is set up specifically for your store. Our team will then install the widget on your site and test it.  You also will get one complimentary pricing adjustment per year (if you would like to adjust your rates outside of the set-up process). Additional pricing adjustments are available for a small fee.
$9.99/month*
$110 — year paid in full*
$50 one-time set up fee
Turn web traffic into leads for new customers with the Shipping Intake Form. Just like the Pack & Ship Calculator, the Intake Form will produce an estimate for your customer that aligns with your in-store pricing.
The added benefit of the Intake Form is that it will collect your customer's information for you — even if they don't complete the form! Our form collects abandoned form fills so that you can create a follow up strategy .
When customers do complete the form, all of their responses will be sent to you so that you get a heads up for a package that is on it's way to your store. It's taking that old contact form on your site and elevating it so that you are guiding the conversation with your customer before they step into your store!
$14.99/month*
$170 — year paid in full*
$50 one-time set up fee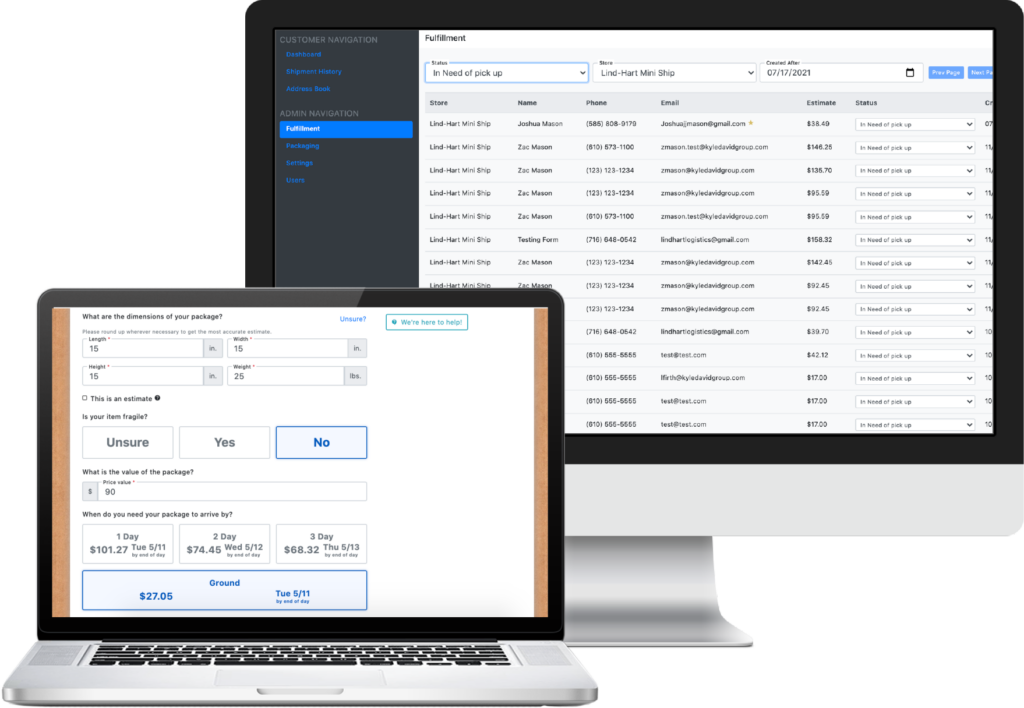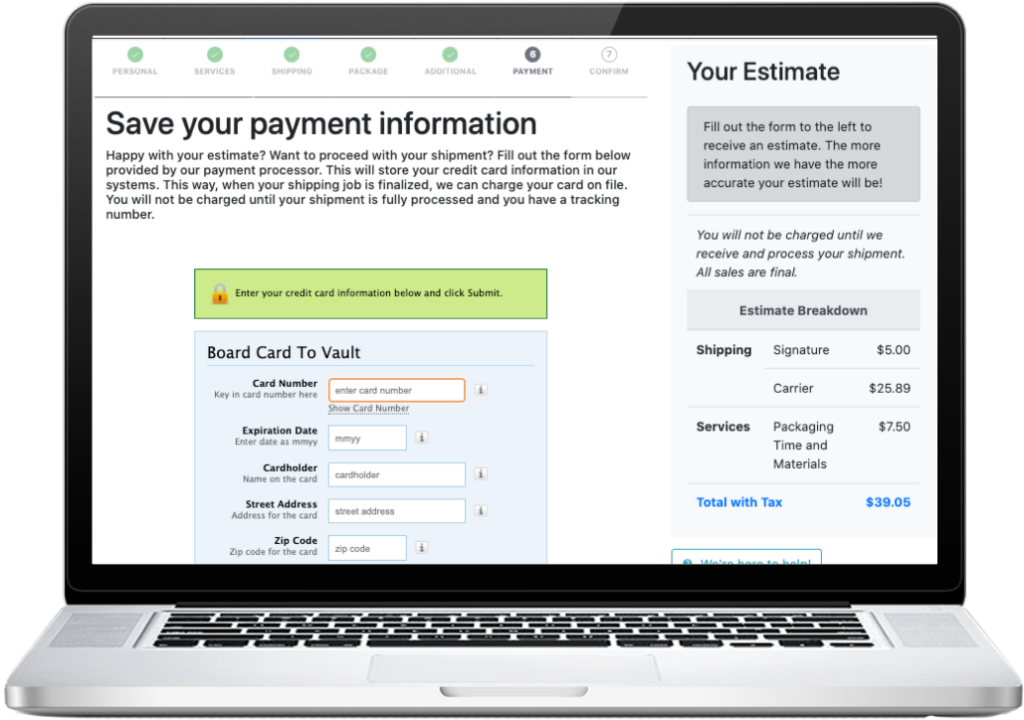 Pivot Ship Bronze allows you to collect payment information when a customer fills out the form on your site. That's right — your store can process online payments for your services!
If the customer is happy with the estimate they receive, they can enter their credit card information to hold the estimate. When they bring the item(s) to the store, you can evaluate the shipment and make any necessary adjustments to the estimate they were given. Then, you can charge their card on file for the agreed upon amount. You can get them in-and-out of the store quickly and efficiently!
$25.99/month*
$300 — year paid in full*
No set up fee!
Do you have a lot of repeat customers? Perhaps folks that are sending multiple packages to customers of their own? Pivot Ship Silver allows you to create accounts for your frequent customers that will give them access to a dashboard of all their shipments. Your customers will have other features that enhance their online interaction with your store. It creates a personal shipping department for your customers!
Future enhancements for Pivot Ship Silver will be:
The ability to set special customer pricing while your customer is logged in

The ability for your customer to access their address book while filling out an order

The ability to create item profiles for commonly shipped products

And more!
$49.99/month*
$549 — year paid in full*
No set up fee!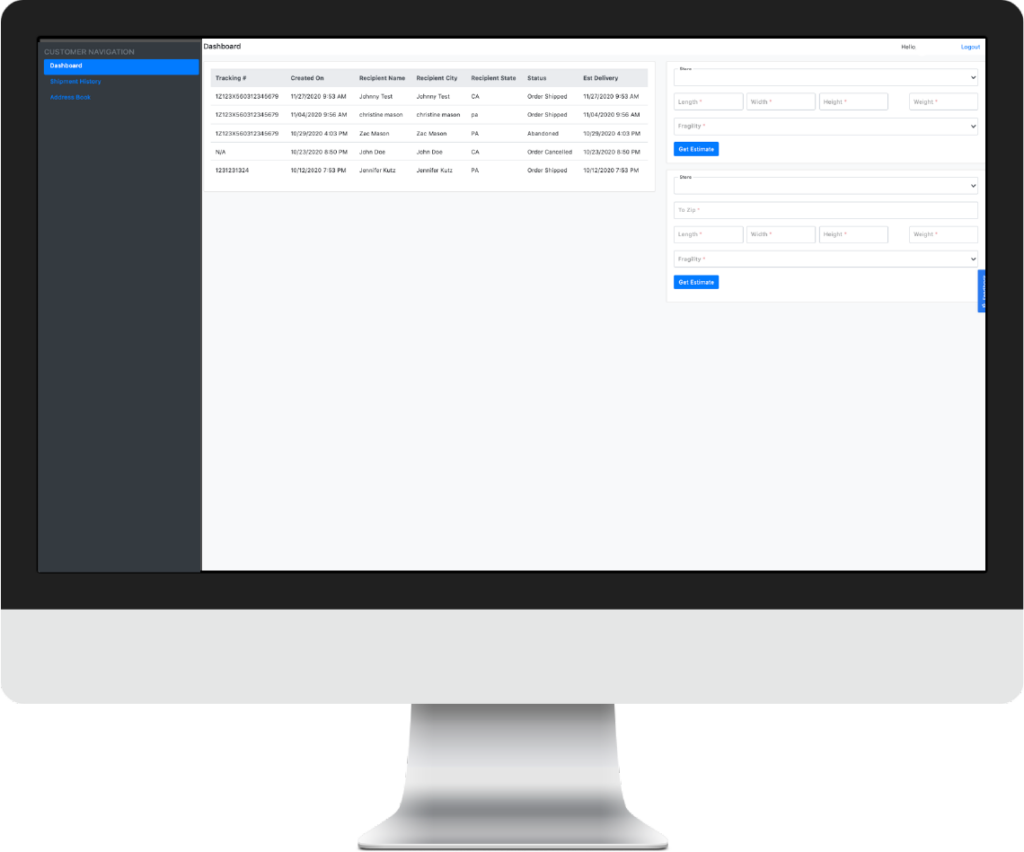 All the features you love about Pivot Ship Silver except with the streamlined functionality of processing shipping orders all through the Pivot Ship portal. You can review the estimate, make adjustments, print the shipping label, and charge the customer all through one seamless interface! Coming soon — stayed tuned.
Your customers love having an online interface to connect to you, their personalized shipping department. How can we make that relationship even sweeter? Well, how about if they didn't need to run a quick quote every time they had an order come in? What if they could connect your services to their online store and let shipping rates be calculated for their customers in real-time? 
That's Pivot Ship Platinum.